An all-time favorite and one of the brand's bestsellers, the latest edition of the Chevrolet Tahoe is quite the SUV. We're familiar with its imposing exterior, versatility, and passenger accommodations, but the interior of this year's edition really surprised us. For 2022, Chevrolet decided to tweak the SUV's interior and make it more roomy, comfortable, and alluring. Here at Jim Tubman Chevrolet, we want you to know all about the 2022 Chevrolet Tahoe interior features, so you can decide whether it's a good fit for you.
Comfort and Seating Capacity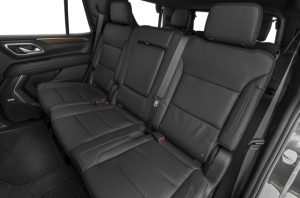 The 2022 Chevrolet Tahoe is officially the largest in the lineup and is more spacious than its rivals. If you own or have ridden in a Chevrolet Tahoe, you may already know that the SUV's third row was a bit confined. But this year's edition features ten more inches in that row, giving third-row passengers as much legroom as those in the first and second rows. This full-size SUV can now seat seven to nine adults comfortably.
What's more, Chevrolet has made it possible to slide the second-row seats, so when you're passing by a picturesque zone in the Ottawa, Ontario, area, your passengers can have more flexibility. This year's Tahoe has also made accessing the third row easier now that passengers can use the grab handles. Although the exact dimensions for the 2022 Chevrolet Tahoe depend on the trim level you choose, you can still expect it to have a roomy and comfortable cabin perfect for you and the rest of your passengers.
In short, with the newest Chevrolet Tahoe, you don't need to worry about space because it's all about making you and your passengers feel comfortable during short and long-distance rides. So much so that even the tallest adults can climb in, sit, and enjoy a long-distance trip without problems. Some trim levels come with an impressive panoramic sunroof you can enjoy without affecting your headroom. All 2022 Chevrolet Tahoe trim levels feature an eight-way adjustable passenger's seat, a ten-way adjustable driver's seat, cloth upholstery, and a leather-wrapped steering wheel.
Depending on the trim level, some features include a ten-way power-adjustable passenger seat, 12-way adjustable and ventilated front-row seats, leather upholstery, heated second-row seats, driver's seat memory settings, a heated and power tilt-telescoping steering wheel, and heated front-row seats.
If you need a child-friendly SUV and you're thinking of installing child safety assets, this version of the Chevrolet Tahoe comes with a full set of LATCH connectors for the second-row seats and tether anchors for the third-row seats.
Cargo Capacity
The 2022 Chevrolet Tahoe is the largest and most spacious SUV in its class — there's no competitor to match its impressive cargo capacity. With the power-folding third-row seats up, you get 25.5 cubic feet of space. But if you fold them down, which we recommend, you end up with 72.6 cubic feet, giving you a much larger cargo space that can easily fit around six carry-on suitcases. If you need more space, the 2022 Chevrolet Tahoe stands at 122.9 cubic feet of cargo space with all the rear seats folded, making it the most practical full-size SUV on the market.
The SUV has many other useful features, such as the hands-free power liftgate. And if you ever need to transport a heavy trailer, the 2022 Chevrolet Tahoe has an impressive 5.3-liter V-8 engine, giving it a towing capacity of up to 8,400 pounds.
Infotainment and Connectivity
The 2022 Chevrolet Tahoe's infotainment and connectivity system is as impressive as the rest of the SUV. All models have a wide variety of standard features, including a 10-inch media touch screen, a six-speaker Bluetooth stereo, a Wi-Fi hotspot, satellite radio, HD radio, and wireless Apple CarPlay and Android Auto.
The 2022 Tahoe also has optional infotainment and connectivity features, including wireless device charging, navigation, a second-row entertainment system, a nine-speaker Bose stereo, a ten-speaker Bose surround-sound stereo, and a universal garage door opener.
Don't worry if you don't see yourself as tech-savvy because anyone can use the 2022 Chevrolet Tahoe's touch screen infotainment system. It has an easy, user-friendly interface that is conveniently located for the driver's comfort and has a lot of physical control knobs to guide you.
It's worth mentioning that higher trim levels boast an even better infotainment system, with available Google Voice Assistant and Google Maps, and the media touch screen has crisper and richer graphics.
Essentially, all these infotainment and connectivity features make it possible for your passengers to enjoy a good movie or TV show while on a road trip. Thanks to the Wi-Fi hotspot, they can now play any media directly from their smartphones.
Safety and Driver-Assistance Features
During crash tests, the 2022 Chevrolet Tahoe received four out of five stars from the National Highway Traffic Safety Administration (NHTSA). The SUV comes with advanced driver-assistance technology and new safety features. Please keep in mind that only a few of these features are standard, so if you want access to all of them, you'll need to purchase optional packages, such as the Driver Alert package.
Check your model's available safety and driver-assistance features before purchasing a package, as higher trim levels come standard with many package-only features. Some features available in all trim levels include seven airbags, front and rear parking sensors, blind spot monitoring, lane keeping assist, cross traffic alert, teen driver technology, automated emergency braking, forward collision warning, and lane departure warning.
The 2022 Chevrolet Tahoe is a great option if you want a spacious SUV with the latest technology and gadgets. Here at Jim Tubman Chevrolet, we're committed to helping you find your dream vehicle. Whether it's the 2022 Chevrolet Tahoe or any other Chevrolet vehicle, we're here to help you. If you'd like more assistance, please get in touch, and a team member will get back to you as soon as possible. Or if you've already fallen in love with the 2022 Tahoe and you're in the Ottawa, Ontario, area, book a test drive with us.